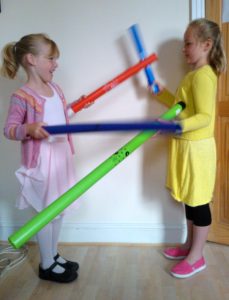 The Cuckoo Tree (2004)  An opera in two acts for performance by and for children, based on the adventure story  by Joan Aiken.  Involving children in solo singing roles, chorus, junior and senior orchestras, percussion ensemble & ocarina choir, alongside professional string, wind and percussion players. Commissioned by Frome Festival and first performed in July 2004.
The Narwhal and the Tardigrade for chamber orchestra (2016) c. 8 mins, commissioned by Stoneleigh Youth Orchestras
Manx Jig for string orchestra.  Two traditional dance tunes from the Isle of Man arranged for intermediate players.  Commissioned by Peter Britton and Cambridge Holiday Music.
Cailín ó chois tSiúre mé (Callino Casturame) for descant recorders/tin whistles/flutes and string quartet. Grade 1 level wind parts.  Recorded by the Callino Quartet
Methusaleh's Deathday Party for String Quartet. Grade 4 level. Inspired by an idea in Harry Potter and the Chamber of Secrets.
Six Ragtime Arrangements for String Quartet (Grades 4 – 8 level) by composers who were not Scott Joplin.  Published by Fountayne Editions  Recorded by the Callino Quartet.
Serendipity and Household Objects for piano quintet (pno, vln, vla, vc, db). Grades 4 – 6 level. commissioned by the Schubert Ensemble for their Chamber Music 2000 series. Published by Cadenza Music
The Connemara Donkey for violin and piano (1986 revised 2004) c. 2 mins. Grade 6 level.
Position Perfect!  A book of entertaining and helpful studies in the 2nd, 3rd, 4th, 5th and half positions for the intermediate violinist or viola player. Also useful for adults. Published by Fountayne Editions
Seven League Boots for descant recorder and piano (2003) c. 1 min 30. Grade 5 level.